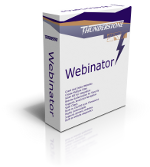 The Webinator Web Index & Retrieval System is a highly customizable website search engine software package that allows a Website administrator to easily create and deploy a high quality search interface to collections of web documents.
With support for multiple collections, a single installation can serve searches for many websites, or different areas within a website, and a customizable thesaurus or synonym file allows users to find documents even if the terminology they use is different from that on the site.
Webinator serves as an example of the type of applications that can be built around Thunderstone's Texis RDBMS and Web Script.
Try the best website search engine software on the Web
Download your free version of Webinator now.
Our website search engine software provides many benefits for administrators and users.
Administrator benefits of Webinator:
Fully customizable search interface with XML and SOAP support
Flexible: indexes multiple sites into one common index, or separate indexes for separate searches
Detailed verification and logging of document linkages
Index/update documents while search is in use
SQL query interface to the database for maintenance and reports
Multiple index engines run concurrently against a common database
Adobe Acrobat / PDF file support, with highlighting of hits within AcrobatReader
Adobe Shockwave/Flash file support
100+ word processor and file formats
User benefits of Webinator:
Simple navigation
Spelling suggestions and as-you-type query completions
Powerful and easy to use query syntax for:

Natural language
Set logic
Special pattern matchers (regular expressions, quantities, fuzzy patterns)
Relevance ranking
Proximity controls

Document similarity searches (Doc Surfing)
Link reference reports
In-context result listings
Webinator 17.0 Enhancements:
Drop-in JavaScript interface added: search may be added directly to a site simply by adding a script to any HTML page
Results may be narrowed to those that link to a specific URL, via link: query syntax
More Parametric facets may be created: limit is now 50 instead of 25
Four versions of the Webinator are available. If you need additional features or capabilities for your search engine software then the
full Texis product
is also available (includes the Webinator application).
Version
features
Free
Webinator
Commercial
Webinator
Professional
Webinator
Enterprise
Webinator
Larger
Versions
Acquire
Page Limit (per index)
10,000
20,000
50,000
200,000
200,001+
Hit Limit (per day)
10,000
10,000
25,000
25,000
25,001+
Tech support
message board
message board
voice & email with maintenance
Intranet able1
Thunderstone logo
Visible Copyright & Title Insertion
File Format plug-in2
JavaScript plug-in
Price
FREE (forever)
$1,490 USD
$2,990 USD
$6,990 USD
Contact us
Upgrade pricing valid until May 15 2015
Upgrade from Version 6
$268 USD
$538 USD
$1,258 USD
Contact us
Upgrade from Version 5
$500 USD
$1,000 USD
$2,500 USD
Contact us
1The free version must be able to contact internet server ls.thunderstone.com
2The File Format plug-in is required to process Adobe Acrobat PDF/Shockwave/Flash, and Word Processor files.
All free and paid versions support SSL/HTTPS and spell-checking.