NEW SEARCH APPLIANCE OUTPERFORMS OTHERS BY 10 TIMES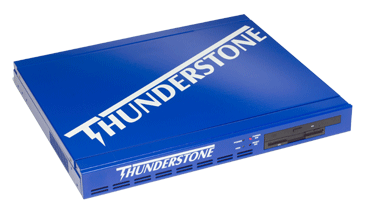 Cleveland -- Jan. 31, 2003 -- The industry's most powerful search appliance was introduced by Thunderstone Software. The Thunderstone[TM] Search Appliance handles 10 times the load of other turn-key search solutions, serving 1,000 typical searches per minute. Competing products handle only about 100 searches per minute.
The Thunderstone Search Appliance is intended for organizations seeking the simplest possible software administration, but without giving up the security and performance of a locally hosted solution. It is a complete web-search or intranet-search solution ready to use as soon as plugged into a network. The Appliance is based on Thunderstone's renowned Texis software, which powers the search functionality of major web sites such as eBay and QVC.
Unlike products that index a limited number of collections, the Thunderstone Appliance allows customers to create as many separate indexes as needed. Thus the administrator may give different groups of users access to content that is appropriate for each group. The Appliance indexes most document formats including HTML, PDF, and word processor files.
The Thunderstone Appliance is also the only search solution that indexes JavaScript[TM] links and content. Other search products skip over JavaScript and thus miss many web pages, even entire sites. The Thunderstone Appliance also indexes FlashTM links and content.
"As the variety of web applications within organizations grows, customers are finding it difficult to manage all the data on their networks," said John Turnbull, Thunderstone General Manager. "Our Search Appliance provides a turn-key solution that won't add to their administrative burden. It performs sophisticated relevance ranking, so that users find what they need quickly and effectively."
The Thunderstone Search Appliance may be integrated into an organization's web sites by means of a simple HTML form added to any page. The appearance may be customized by adding an organization's "look and feel" template, or by using XSLT.
Thunderstone Search Appliance models are available to index either 500,000 or one million documents. For more information about the Appliance, contact Thunderstone Software at 216-820-2200.
ABOUT THUNDERSTONE
Thunderstone Software LLC is the premier provider of text mining technology, integrating unstructured searching with SQL relational database functionality. Applications of this technology include publishing, catalogs, classified advertising, auctions, content management, and web-searching. Thunderstone is a 22-year-old company whose products are used on thousands of web sites worldwide. Major customers include eBay, Corbis, QVC, About.com, ZDNet, HotJobs, and many others. For more information, visit http://www.thunderstone.com.