How to Buy Thunderstone Products
When you need search solutions for your company, we can get you the products you need whether you're a business, government organization, or an international client. Thunderstone provides plenty of ways for all of our customers to get the search hardware and software they need.
Online Automated Quotes

Thunderstone makes getting a quote easy with our self-service pricing application. All you need to do is provide your email, select the items you need, and provide some basic information. Once you do that we'll send a quote for your search solution straight to your email and you can go from there.
Search Solutions for Government Agencies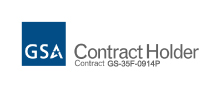 Thunderstone has provided several government agencies with search solutions, with our customer ranging from the U.S. Department of Energy to the U.S. Marine Corps. Our search appliances are available to government agencies through GSA Contract GS-35F-0914P or through GSAAdvantage. We also welcome SmartPay to help make the ordering process faster and quicker for our government search appliance customers.
Resellers for International Customers
Our international customers don't have to miss out on our quality search solutions. Make sure you check out our list of resellers to find an option near you.
Deal Directly with the Search Experts
When you have questions about Thunderstone's search products, we have answers. We can provide a personal touch to the search appliance or search engine software purchasing process, answering your questions through our contact form or over the phone. Contact us online or give us a call at +1 216-820-2200 today to get Thunderstone search and datablase solutions for your organization.